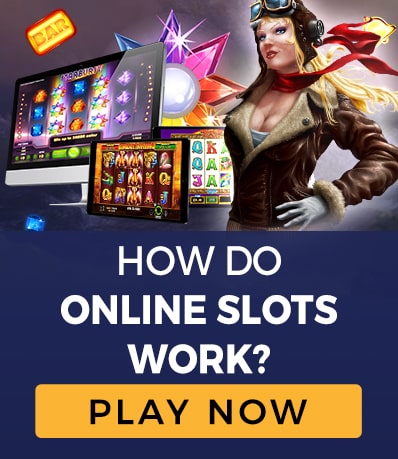 How Do Online Slots Work?
Slot machines have been around for over 100 years, which is a fact that may surprise many slots newbies. Their newer, younger and somewhat more hip versions, online slot machines, have only been around since the mid-nineties, yet have become a global phenomenon in just a little over two decades. In fact, more people in the UK have had a go on a virtual slot machine or two, than any other type of online casino game, which should tell you something about how fun slots are to play. Slots come in all sorts of styles and levels to suit just about any budget, from high roller slots that have the potential to make you an overnight millionaire, to highly affordable penny slots that you can play to your heart's content and still have a decent amount of cash left over to explore more expensive games later.
If you're just starting out on your exciting slot journey, then welcome to PlayUK, the UK's premier slots hub! From the classic 3 reel slots that defined Las Vegas, to the hottest 3D video slot titles and progressive slots, PlayUK has it all, sourced from the industry's biggest award winning software brands including NetEnt, Microgaming, Quickspin, NextGen and many others. If you're wondering and how to play mobile slots, our guide is designed to give you all the information you will ever need to ensure that you have consistent, positive experiences playing slots at our casino.
How Slots Work – A Beginners Guide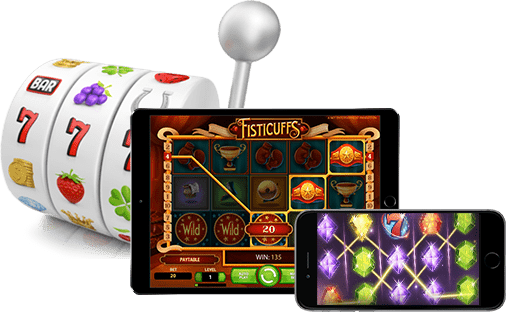 Most players are already familiar with slot machines, either having seen them in a movie, at a pub or betting shop, a brick and mortar casino, or while browsing online. The basic design of the slot hasn't changed all that much in the last 100 years of its existence. The first real slot machines were invented in the late 1800s by a man named Charles Fey and consisted of three reels with picture cards and other symbols including horse shoes and bells. The idea was to get three matching symbols along a line drawn across the glass screen, known as the "payline" in order to win a prize.
Let's fast forward to the birth of the internet and the online casino industry. We saw one of the very first casino games adapted for this incredible new invention known as the "one armed bandit" as they are sometimes referred to as. Virtual slots follow the same basic principles, but also expand on the basic slot concept to make them even more exciting, rewarding and entertaining. You still get the original 3 reel slots, just a virtual version complete with playing card symbols, bells, horse shoes, cherries and many other fun and exciting symbols. However, 5 reel slots have become the most popular version thanks to a wide range of features including Wilds, scatters, expanding Wilds, multipliers and more. Modern slots have also been revolutionalised based on how you win, adding far more paylines, as well as the ability to create huge wins in multiple directions.
How Slots Work – A Beginners Guide
Paylines are at the heart of any slot and help to not only determine whether you've won or not, but also determines what sort of win occurs. The original slot machines had a single payline, right along the centerline of the three drums. However, modern versions have upped the ante tremendously, offering anything from 9 to 50 paylines and up to 243 or even 1023 ways to win.
An average number of paylines is around 25, which basically means that you get up to 25 different chances of making a win on every spin. Paylines can run from left to right in a line, diagonally, from right to left (in select games), and various zigzag patterns. Matching symbols don't even have to line up next to each other because you've activated up to 25 paylines, meaning that as long as they are on one or more of these active paylines, you win.
How Many Paylines Should You Bet?
Deciding on how many paylines you want to bet on can be quite a challenge, especially if you are new to playing UK slots online. Some slots will have fixed paylines, which means that all paylines are active on every spin and you can only really decide on your coin value. On machines that allow you to select how many lines you want active, you are essentially adding at least one coin for every payline that you activate.
The more paylines you activate, the higher your wager will be for that round. So, the best way to determine how many lines to activate would be based on your playing budget or bankroll and the nature of the machine itself, since certain slots like progressives usually require you to have all available paylines active on every round.
Will 'Betting Max' Increase Your Chances of Winning?
Any slot game is a game of chance and the built in random number generator (or RNG for short), makes sure that this is always the case. In other words, there is no yes or no answer here. It really all depends on where the reels stop spinning. Some players believe in always playing with all paylines active and with the highest coin value possible. This is known as 'Max Bet' or 'betting on max', and the feel that this is the best way to increase big winning odds.
While hitting the Max Bet button may increase your chances of landing a big paying combo, you should also keep in mind that you are betting more of your bankroll on every round. If your bankroll can sustain it then it can be the best way to go. However, if you are a more conservative player, or are playing on a tighter budget, being more selective with your paylines is usually the smart move, at least until you've built up a strong and healthy bankroll.
Ultimately, it really is up to you and your actual slot goals. If you are merely playing for entertainment purposes, mixing it up can be quite interesting and exciting. If you are looking to hit it big, nothing quite beats putting it all on the line every time and hitting the Max Bet button.
Experimenting with Free Games
At PlayUK, we have hundreds of slots for you to choose from, giving you a diverse slots palette to draw from. Did you know that you can play the majority of our slots (with the exception of our progressives) for free? By simply clicking on the 'demo' option, you can launch virtually any slot game that takes your fancy and see exactly how it works.
This is a great way to experiment with different features such as Wilds, scatters, multipliers, bonus rounds and other gameplay elements. You can see for yourself exactly how paylines work in different titles, how wins are constructed, and how bonus rounds are triggered.
Once you have it all figured out, switching over to a real money version is just a click away. At PlayUK we offer all sorts of great bonus packages if you choose to deposit some cash to play our games for real cash. You can also enjoy tons of value-added freebies and promotions, including free spins on selected titles and much more.
How Special Game Symbols Can Help You Win with Ease
By now you've probably figured that the only way that you can win on a slot is by getting at least three symbols to line up in some way across the paylines. However, while this was always true for the older slots found in Las Vegas and other casinos prior to online casinos, things have changed for the better. Thanks to a range of special game symbols, including Wilds, scatters, multipliers and others, winning is not only easier, it's also a lot more fun.
Let's take a quick look at these special game symbols in more detail.
Wild Symbols
Wild symbols are really great because they allow you to do something quite extraordinary. If you happen to get only two matching symbols along a given payline you can still score a win, if you also happen to have a Wild symbol sitting on that same payline. So, if you see two cherries, or melons, or whatever cool symbols happens to be part of that particular slots theme, as well as a Wild symbol – you win! In fact, if you only happen to have landed one symbol, but then got two Wild symbols on that payline, you still win!
The really cool thing with Wild symbols is that they can come in any form, shape or size, all depending on how the game is designed. In addition to being custom made to suit each title, Wild symbols can also take on other interesting characteristics. For example, a Sticky Wild will stick to the reel that it appears on, staying position while other wheels spin, creating more winning combinations in a row. Some Wilds come as Stacked Wilds, which means they can fill an entire reel with Wilds and help you to stack up wins in that way. Walking Wilds are really crazy, and are designed to 'walk' across the screen, creating wins as they go.
Scatter Symbols
Scatter symbols are extremely important symbols and serve a variety of purposes during base gameplay. Depending on how the slot is designed, Scatters can be programmed to award special prizes like free coins or bonus games, and can also trigger special bonus rounds. However, unlike Wilds, Scatters require a minimum of three before they do anything of value. What's more, in most slot titles the Wild symbol cannot be used to substitute a Scatter symbol. However this slight hindrance is balanced out by the fact that Scatters do not need to land on an active payline in order to trigger free games, bonus rounds or dish out small prizes, they only need to be visible on the game screen.
Multipliers
A Multiplier is designed to multiply your winnings by a certain amount. This gives you an instant boost to your winnings which can be quite significant depending on the strength of the multiplier. Quite often, Multipliers are actually Scatters, or Scatters that also have the added function of multiplying your wins during a bonus round for example. When a Scatter symbol transforms into a Multiplier, it can multiply your winning total by anything from x2 to x10 or more. Another added benefit of the Multiplier is that it will multiply your total for the round and not just your win for a payline.
Getting Started: How to Select Your Next Bet and Spin the Reels
Now that you know a bit more about how slots are designed and what their most important features are, it's time to look at how to actually play a few rounds. Remember to try as many PlayUK slots as you can in our useful demo mode so that you get the best idea possible of how all of these nuts and bolts work in practice.
Let's break down how to get started playing one of our slots in a few simple steps.
Step 1: Deciding How Much You Want to Bet
Before you can spin your chosen slot, you will need to decide how much of your bankroll you want to put on the line. Every slot game comes with a range of coin values ranging from a minimum to a maximum size. The minimum and maximum values can vary quite a lot, again depending on the overall design of the title, with some starting from as little as 0.01 and going up to 100 or more.
Step 2: Activating the Paylines
Activating the number of paylines you wish to have in play is the next vital step of this process. It is also important to note that not all slots feature flexible paylines as some have fixed paylines, meaning that all of them will be active in every round. If you happen to be playing a machine with flexible paylines, you can decide how many you want to have active on your next round. This is another great way to fine tune your spending during the game as you can have only one or two active paylines when your bankroll is a bit low, or all possible paylines active if you are trying to maximize your wins.
When deciding how many paylines to activate before playing, keep in mind that you will have to multiply the number of paylines by your wager amount. In other words, if you select two tokens for the round and activate five paylines, you will effectively be betting ten tokens for that round. You can then either choose to keep that formula for your next go, or change it to suit your needs. The entire process is very simple and quick once you get the hang of it and you can even choose to let the game spin by itself while you sit back and relax. Just hit the Autoplay button and you're on your way.
Understanding RTP and Hit Frequency
Return to Player
Understanding the Return to Player or RTP along with the hit frequency of a slot is a great way to determine whether that machine will yield a good set of wins for you. The RTP is always expressed as a percentage and the higher the percentage, the better. The RTP is calculated as a whole and is not based on individual players or how often the machine is played on. So, if a slot had an RTP rating of 95%, it would mean that the machine returns 95% to players in winnings. The easiest way to find out what the RTP rating is of the game that you want to play, simply click on the information icon. You will then be able to learn all sorts of interesting things about that machine, including its RTP percentage, which symbols are Wilds, Scatters and Multipliers, which direction wins are rewarded in, and much more.
Hit Frequency
Hit frequency refers to how often a slot will finish a spin on a win. So, if a slot is rated at a hit frequency of 25%, it basically means that you should expect a hit every four spins. Most online slot games feature a hit rate of between 10% and 30% although knowing this is not enough to determine whether a machine is worth playing or not. The best way to go about this is to combine the RTP percentage with the hit frequency and average payout size. This combination is probably the best technique that you could use to determine which machine you should be playing.
How RNG's Keep Slots Honest
One of the biggest concerns that UK players have, especially if they are still new to online slots, is how to be sure that the slot that they are playing is truly fair and honest. Well, the key feature to ensuring that an online slot produces truly random (and fair) result is through the built in RNG software that ensures that every result is truly random and not controlled by any third party.
RNG's are based on a complex mathematical algorithm to ensure that every single spin is completely random. Since PlayUK only source slots from reputable software brands like NetEnt, Microgaming, IGT and others, you can be absolutely certain that all of the exciting slot titles that you can play at PlayUK contain a unique RNG platform to ensure absolute fairness every second that you play them. All RNG's are also independently audited and tested by the world's best testing firms at random intervals, making sure that the integrity and efficacy of every RNG is 100% at all times.
Types of Online Slots
Slots have come a long way since the late 1800's and today players are really spoilt for choice. There really is something to suit all tastes and preferences and it is a good idea to try as many different ones as you can to see which one suits your style best. Let's look at some of the most popular styles and types.
3 Reel Slots
3 reel slots are often referred to as classic slots as they are based on the original slots invented by Charles Fey. Typically, 3 reel slots feature a single payline over and are ideal for beginners and casual players. Incidentally the much-loved 'pub fruity' is usually a 3 reel machine.
Video Slots
Video slot machines are the modern evolution of the original games and are the preferred game of more serious or experienced slot players. Video slots are also often referred to as multiple reel slots and contain a variety of special features, including Wilds, Scatters, bonus rounds, animated sequences, interesting and colourful themes and more.
Progressive Slots
Progressive jackpot games are quite often the most exciting and rewarding of all slots. The reason these games are called 'progressive', is because the prize associated with them is not fixed at a certain value, it is able to grow and grow. The way this works is quite simple. As each person plays the game, a percentage of their wager is added to the overall total until someone hit the jackpot, after which it starts all over again. The more people playing the game, the faster the total grows and ultimately, the higher its value will be. Top progressive slots like Mega Moolah have captured the imagination of the public, with record breaking payouts running into the millions for UK players.
Progressive slot game types include:
Standalone
In-house
Network
Multiple
Playing Free Slots
With the exception of progressiveslots games, which can only be played with real cash, our slots can be played for free. If you are new to PlayUK and have signed up (or thinking of signing up) then welcome to the wonderful world of online slots! You may at first find the sheer range of slot options a bit overwhelming, but the beauty of our slots is that you can try them out, risk-free! This is a fun way to find out which type of slot you tend to gravitate towards and a good way to have fun without risking any of your own cash. Once you feel that you are ready to take on our slots for real cash and potentially huge wins, switching over from our demo versions is just a click away. We have streamlined the depositing process and getting a bonus to play slots to your heart's content!